1 Day Acuvue Moist for Astigmatism (90 lentile)
Preț per bucată
353.00 Lei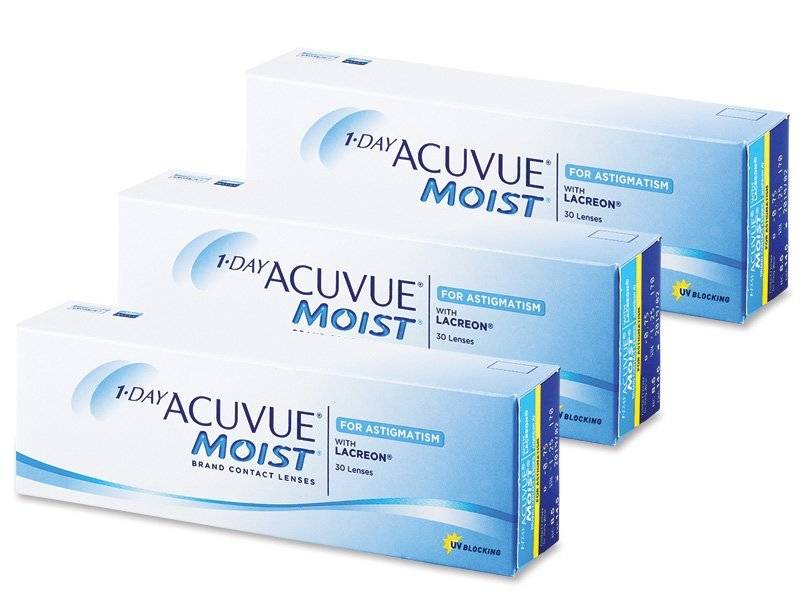 ---
Kontaktní čočky 1 Day Acuvue Moist for Astigmatism
1 Day Acuvue Moist for Astigmatism
jsou jednodenní torické čočky uvedené na trh společností Johnson and Johnson. Kromě korekce astigmatismu nabízejí tyto čočky svému nositeli vysoký komfort při jejich každodenním užívání, kterého je dosaženo použitím lubrikační technologie, systému stabilizačních zón a UV filtru.
1 Day Acuvue Moist for Astigmatism
nabízíme také v balení po 30 čočkách.
Technologie LACREON™
1 Day Acuvue Moist for Astigmatism
jsou vybaveny technologií
LACREON™
, která uzavírá zvlhčující složky (složením podobné přirozeným slzám) v materiálu čočky. Díky této technologii pak čočky pomáhají udržovat oči vlhké, svěží a v pohodlí po celý den.
Technologie ASD

Technologie ASD
pracuje se systém čtyř stabilizačních zón. Využívá přirozeného tlaku obou očních víček k udržení kontaktní čočky na svém místě během každého mrknutí. To přispívá k udržení ostrého vidění po celý dne. Tato technologie také umožňuje rychlé usazení čočky a snadné předvídání její orientace na oku.
Snadná aplikace a ochrana před UV zářením
Další nedílnou součástí čoček 1 Day Acuvue Moist for Astigmatism je UV filtr chránící oči před zářením UVA a UVB. Indikátor rub-líc umožňuje snadnější určení správné polohy pro nasazení čočky na oko. 

Proprietăți
| | |
| --- | --- |
| Branduri: | Johnson and Johnson |
| DIA: | 14.50 |
| BC: | 8.50 |
| Număr lentile pe cutie: | 90 lentile |
| Frecvența înlocuire: | 1 zi |
| Permeabilitatea oxigenului: | 23,7 Dk/t |
| Valabilitate: | min 32 luni |
| Conținut apă: | 58% |
| Material: | Etafilcon A |
| Dioptrie Cilindrică: | de la -0.75 la -2.25 |
| Dioptrie: | de la -9.00 la +4.00 |
| Pot să dorm cu aceste lentile?: | Nu |
| Filtru UV: | Da |